Guest contribution by Cian Dayrit (co-author of "Counter-Mapping for Resistance and Solidarity in the Philippines"):
This counter-map instruction is part of a zine project entitled "How To Not To". It is a compilation of artist-made instructions that may (or may not) be useful to people during this pandemic lockdown. Entries range from "how to meditate" and "how to care for your organic backyard farm" to "how to make a Molotov cocktail". The zine is meant to be distributed online and can be printed and reproduced by anyone.
Here in the Philippines, hunger and state aggression is more likely to kill you than the pandemic. More than a month into the lockdown, there is still no clear solution as to how we will recover from this virus. The state has taken advantage of the situation by setting up militarized checkpoints and imposing curfews and a violent crackdown on all critics and dissenters. Even private relief operations have been hindered by bureaucratic red tape and terror tagging of state forces. Killings and arrests of rights defenders have continued while urban and rural poor are driven to starvation due to state neglect and incompetence. All this while there is no medical solution. The pandemic is weaponized to destroy the poor and anyone who resists. For the fascist regime, its business as usual.
My entry, "An Exercise on Counter-mapping" is a snippet of my social practice which aims to visualize, analyze and expose structural violence enacted upon the deliberately silenced sectors of the Philippine population (peasants, indigenous people, workers, urban poor).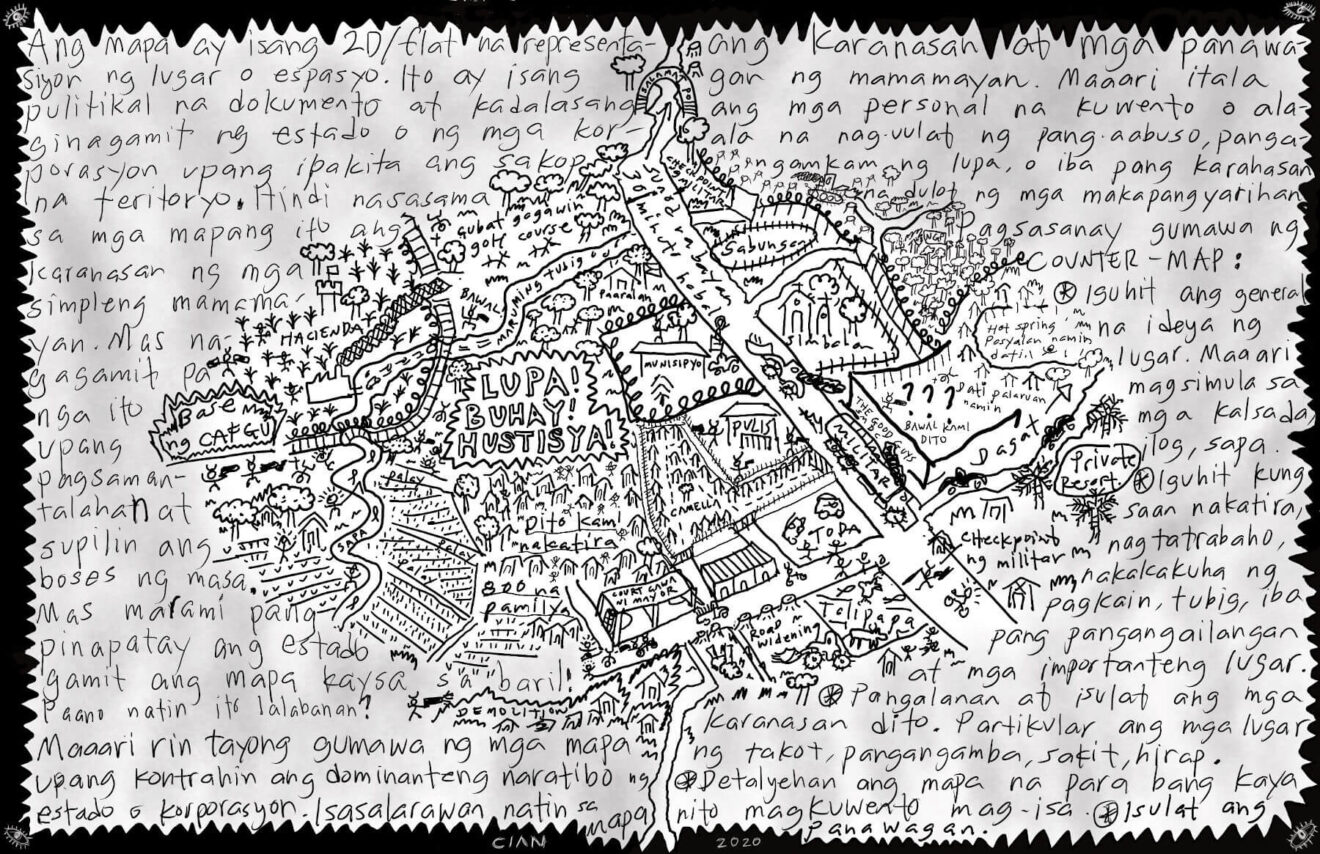 Translation from Filipino text:
A map is a 2d/flat representation of place and space. It is a political document which is commonly used by the state and corporations to visualize their territories. Excluded in these maps are the experiences of the citizens. It is also more commonly used to take advantage and suppress the voices of the masses. Maps have killed more people than guns ever had.
How do we fight this?
We can also make maps to counter the dominant narratives of the state and corporations. With our maps, we can show our experiences and the calls of the masses. We can narrate our personal accounts of abuse, land grabbing and other forms of aggression perpetrated by the so-called authorities.
Exercise on making a counter-map:
Draw your general idea of the space you occupy. You can start with roads, rivers, creeks, lines.
Draw where you live, work, where you get food, water and other needs and other important spaces and landmarks.
Label and write your experiences here. Particularly the spaces of fear, pain, others.
Add the necessary details in your map so that in can tell your story even when you are not around.
Write your call.